ing -->
Wildfires, pesticides and other exposures focus of interdisciplinary meeting
(SACRAMENTO) —
UC Davis researchers from a variety of disciplines will unite at the first-ever Effects of Lifestyle, Environmental, and Microbial Exposures and Nutrition on Tumorigenesis Symposium (ELEMENTS) at the UC Davis Comprehensive Cancer Center Goodnight Auditorium on March 7.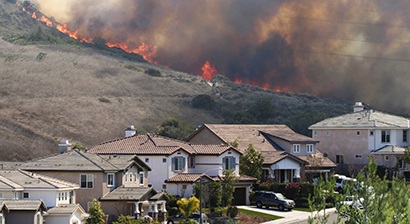 It's unknown if California wildfires and other environmental exposures increase cancer incidence and affect outcomes.
This new initiative led by cancer geneticist Luis Carvajal-Carmona will focus on a broad range of exposures and occupational practices that affect individuals within the Cancer Center's 19-county service area. Emerging problems include air quality affected by wildfires and the effects of agricultural practices on air and water quality.
"As a first step, we want to know what our colleagues are already doing and determine what can be translated into cancer research," said Shamira Sridharan Weaver, translational research program manager at the Cancer Center and ELEMENTS program manager.
Keynote speaker Charles B. Hall from Albert Einstein University will discuss the World Trade Center Health program. David Lubarsky, UC Davis Health CEO and vice chancellor for human health sciences will deliver an introductory talk, followed by speakers from the College of Agriculture and Environmental Sciences, Engineering, Veterinary Medicine and more.
"One of the outstanding attributes of UC Davis and UC Davis Health is the interdisciplinary cooperation and the way our researchers and departments make each other better," Lubarsky said. "The professionalism and spirit of collaboration is one of the reasons we continue to attract top levels of research funding, and it's also why we produce so much groundbreaking science."
Visit ccc-elements.eventbrite.com to RSVP and for additional information. All UC Davis students, staff and faculty are welcome to attend.

Category